From the Pastor's Heart
God is so faithful to bless our obedience.
As we review 2021 here at In Touch Ministries, I'm honored to express my deep gratitude for you, along with sharing my excitement for the future.
It's been a busy year of serving the Lord and proclaiming His gospel.
I often say that the awareness of God's presence energizes us for our work. That was as true as ever in 2021. I'm proud of our In Touch staff, who are navigating the ongoing pandemic with grace and enthusiasm.
Through all the challenges, they continue to get out the good news from morning till night.
Jesus commanded us to share the gospel around the world and make disciples, obeying Him and teaching others to do the same (Matt. 28:19-20). That's been our goal since In Touch's beginning in 1977. But we never could have imagined we'd be where we are now.
With your help, In Touch has become a global ministry reaching people for Christ in nearly every country on earth. We've seen God's faithfulness over almost half a century. As we preach His Son, God opens doors and hearts to eternal life, and His kingdom grows.
In 2022, we'll celebrate our 45th anniversary!
It's humbling and exciting to think of all that God has done. At first, In Touch Ministries was staffed by a few people in the First Baptist Church offices in downtown Atlanta. Our duplication technology began with cassettes. Over the years we progressed to VHS tapes, CDs, and DVDs.
Live TV was our first venture into broadcasting, followed by video-tape syndication and a radio program.
Today, our staff of nearly two hundred serves not only in digital and streaming media, but a host of other areas—from print to podcasts to prayer.
Who would have thought, in the 1970s, that 45 years later we could watch full-length sermons on phones we carry in our pockets. Or that farmers in Nepal would be listening to discipleship material from In Touch on audio players, as they work in their fields. Or that those in prison would receive daily support through our publications, and people could find biblical guidance in their social media accounts.
I'm reminded of David's words in Psalm 37:25: "I have been young and now I am old, yet I have not seen the righteous forsaken or his descendants begging for bread."
God is so faithful to bless our obedience, even to the following generations, making our legacy a powerful testimony to those who come after us.
I thank you, with all my heart, for your partnership—on behalf of myself, the staff at In Touch, and all the people who've come to know Christ or been strengthened in faith because of your support. I hope you are as excited as I am to see all that God will do in the coming years.
In the words of Paul to the Ephesians, "Now to Him who is able to do far more abundantly beyond all that we ask or think, according to the power that works within us, to Him be the glory in the church and in Christ Jesus to all generations forever and ever. Amen" (Eph. 3:21-22).
May God bless you deeply in 2022.
I pray you'll grow each day in faith, love, and service, and that your joy in Him will be full.
Prayerfully yours,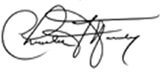 Charles F. Stanley
P.S. We are so grateful for your prayers and support. Please join me in thanking God and praying for all who will hear His Word in the future. To God be the glory!